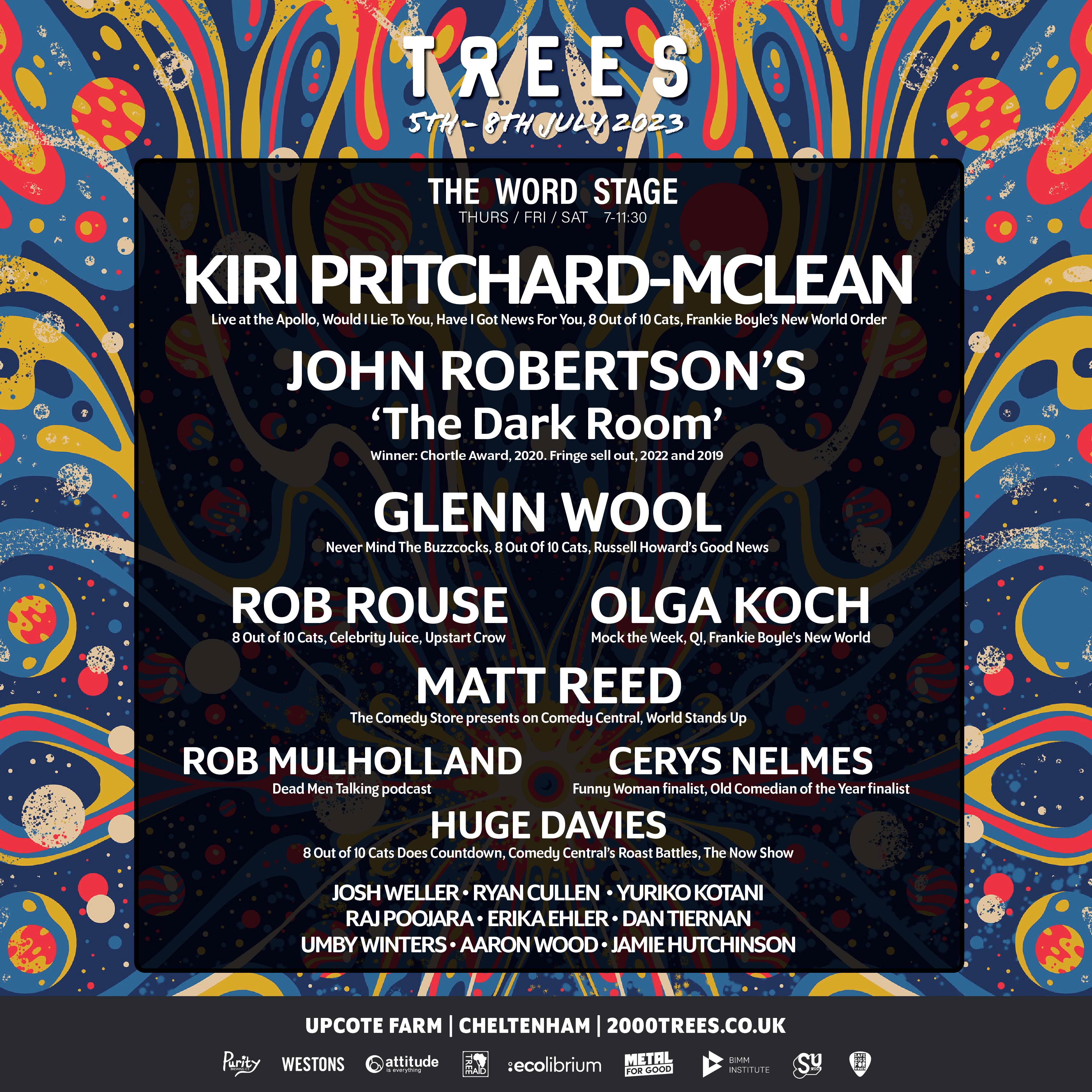 THE WORD STAGE IS BACK
THE WORD STAGE IS BACK
The Word Stage is back, bigger and better than ever. As well as the huge comedy line up and the return of the ever-popular Pub Quiz, there will be new interactive game shows including Masters Taskers and The Best Game Show(s) Ever.
As well as talks from the likes of Safe Gigs for Women, Extinction Rebellion and Running Punks. The Word Stage now features daily themes with speakers, musicians, writers, poets and enthusiasts bringing their voices, experiences, insight, joy and wonder to the stage.
Each morning will start with our previously announced huge line up of podcasts, but fear not - the infamous Trees yoga is back, now taking place at The Forest Stage. What better way to kick off your day than yoga among the trees. And for any runners out there, bring your running shoes, as Jimmy from Running Punks will lead a 5km run, starting at 8am on Friday from The Word Stage.
Interactive Games
Our master of mayhem, comedian and writer Shirley Halse is also back with even more interactive silliness, oodles of fun and some as yet TBC prizes. Alongside our ever-popular Pub Quiz, new additions include game show Master Taskers where you could be asked to do absolutely anything against the clock and The Best Game Show(s) Ever which may take you back to your childhood screaming the right answers at the TV while your parents get it wrong (just me…?)
DAY TO DAY LINE-UP
Thursday
Myriad Musical Connections – we've all got great stories of emotional connections to music, so why not head over and hear some more – find out if Fan Grrrl-dom is just a phase, explore Music Nostalgia with musician John MOuse + guests, and enjoy all the artistic insights in conversation with Richard Pitt. Or why not seek salvation alongside Running Punks founder and musician Jimmy Watkins* – who will also be leading a 5km run open to all on Friday morning (meet at The Word stage at 8am).
*In Jimmy's own words: How I went from professional athlete to musician and all the mental health problems that caused. I talk about how I was able to work through that by running and how running eventually led to a rise in creativity and helped me go teetotal.
Friday
Something To Shout About – guest curator and DJ Keeley Hudd invites a compelling range of thought-provoking voices to speak their truths and navigate diverse topics including post(punk)-humanism, the queer-body, technology and the patriarchy, identity, morality and empathy, modern life and mental health, with humour, tenderness and a taste for the surreal. Don't miss comedian T.S Idiot, who covers pencil enemas, daddy issues, gay sandwiches, communist smurfs and the rising price of Freddos, or our session promoting positive mental health & well-being with psychologist Dr Alec de Sausmarez.
Saturday
Climate Now – Our Guest Host is Professor Richard Betts MBE, Met Office Fellow, Head of Climate Impacts Research, Chair in Climate Impacts, University of Exeter. He discusses the impacts of climate change and generating political will. Extinction Rebellion, poets and other speakers will widen the theme relating to sustainability and climate change.
In addition, get up close and personal on a lifetime of adventures with JS and Mark Clayden from Pitchshifter, and best-selling metal biographer Joel McIver will share stories on Metallica, Black Sabbath, Slayer, QOTSA, Thunder and Ice Cube.
Podcasts
This year we've got: 3 Is The Magic Number / On Wednesdays We Wear Black / Punks In Pubs / 101 Part Time Jobs / Mark and Me / Sappenin' Podcast kicking off each day.
Comedy
Joining us for 2023 is Kiri Pritchard-McLean / John Robertson's 'The Dark Room' / Glenn Wool / Rob Rouse / Olga Koch / Matt Reed / Rob Mulholland / Cerys Nelmes / Huge Davies / Josh Weller / Ryan Cullen / Yuriko Kotani / Raj Poojara / Erika Ehler / Dan Tiernan / Umby Winters / Aaron Wood / Jamie Hutchinson + the return of the New Act Showcase!
OUR STORY
2000trees was created in 2007 by music festival veterans after attending all the main industry events over a decade. Starting with a simple passion for music and the desire to create a dynamic, energetic and accessible event that put the fetival-goer at the top of their priorities.
learn more