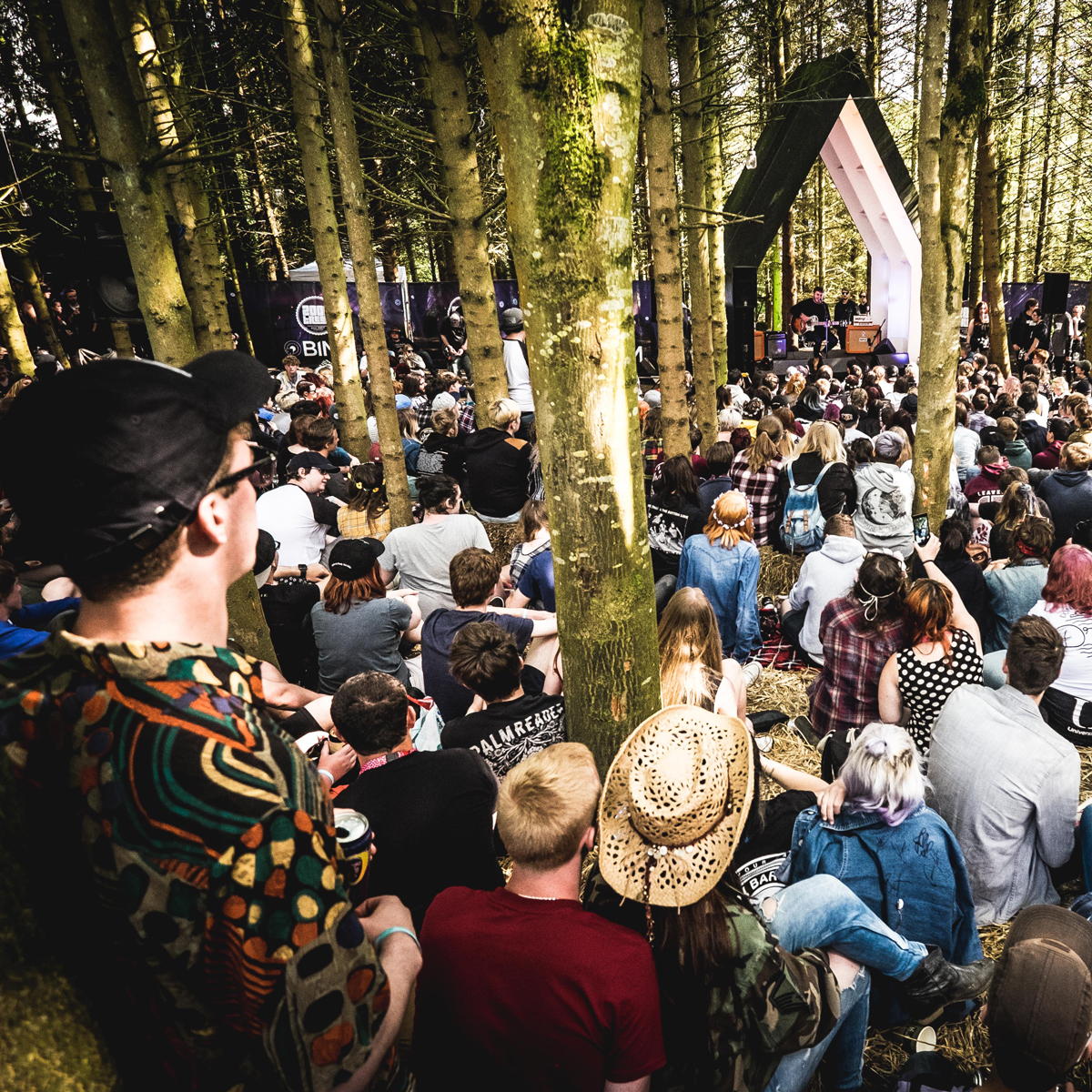 Accessibility & Inclusivity
Here at 2000trees we are committed to encouraging equality, diversity and inclusion at our Festival, rejecting all types of unlawful discrimination.
We recognise that for us to provide the best festival possible, our workforce and line up should be representative of all sections of our community and we are working hard to ensure this is the case.
We are committed to providing goods, services and facilities in a non-discriminatory manner. We work hard to remove barriers ensuring all sections of our community are able to attend our Festival.
The 2000trees team work hard to create an environment free of bullying, harassment, victimisation and unlawful discrimination, promoting a culture of dignity and respect for all. We recognise and value difference in our workforce and customers.
We take seriously complaints of bullying, harassment, victimisation and unlawful discrimination by fellow employees, customers, suppliers or the public.
We recognise we have a responsibility to take care of all those who visit our festival, be it as an employee or customer and take this responsibility very seriously.


ACCESSIBILITY
At 2000trees festival, we believe that all events should be accessible and inclusive to all. To achieve this, we are continuing our work with Attitude is Everything and will continue to make our site as accessible as possible.
Below we have outlined the available facilities at our festival but if you have any further questions then please don't hesitate to email us at access@2000trees.co.uk or write to us at: 2000trees Festival Access, 45 Underdale Road, Shrewsbury, Shropshire, SY25DT


BOOKABLE ACCESS FACILITIES

Two-for-one ticket for personal assistants
A free ticket for a personal assistant is available to any deaf or disabled person who would be unable to attend without their presence and who has bought their own ticket. Please note: the personal assitant does not need to be named, however the PA ticket cannot be split.
Viewing platforms
We have accessible viewing platforms available at all stages (apart from the very small Word stage). Access to these platforms will only be granted to people wearing a viewing platform wristband. You will also receive a lanyard to allow one companion access along with you which may anyone you choose and not just your PA.
Accessible campsite
Accessible camping is situated just inside the main pedestrian entrance which is the centre of the site with close proximity to facilities. 3 accessible toilets and some standard portaloos will be in this campsite. A 24-hour level access charging point for power chair batteries will be located in by the south entrance to accessible camping operte by our partner Event Mobility.
If you require access for a specific vehicle that is your only means of transport we will review on a case by case basis. Please email us to discuss at: access@2000trees.co.uk
Assistance with luggage is available upon request at arrival from the festival reception.


EVENT MOBILITY
Event Mobility is delighted to be providing electric scooters and manual wheelchairs for the use of disabled, elderly and mobility impaired visitors at the show.
To reserve an electric scooter or manual wheelchair please book online at www.eventmobility.org.uk


To apply for the 2:1 tickets and to request a viewing platform wristband or place in the accessible campsite, you will need to do the following:
Purchase a ticket through DICE or our installment plans
Complete the Access requirement form and include any supporting evidence.
Complete the form with the email you purchased your tickets with
We will then issue you a P.A. ticket to present upon arrival at the 'Guest list' queue at the festival reception (main entrance tent), in order to receive your wristband(s) and other access passes
ADDITIONAL INFORMATION
SITE EXPLANATION
Broadly rectangular in shape, the site is 500m at its longest point with the Main arena, Main stage, Neu stage at bottom end of a gentley sloping incline and the accessible camping in the centre. Two large music tents (The Cave & The Axiom) are situated in the centre of the site. The Forest Sessions stage, The Word stage and chill out areas are found towards the top end of the site.
(A downloadable map will appear here when completed)
Approximate distances from accessible campsite to:


Main stage – 300m (includes viewing platform)
The Cave tent – 80m (includes viewing platform)
The Axiom tent – 100m (includes viewing platform)
The Neu tent – 200m
The Word stage - 100m
The Forest Sessions - 180m
The site is based on a sheep farm and as such the majority of the site is a field without solid road ways.
Entry & WRISTBAND COLLECTION
Upon entry for the accessible carpark you will pass the security point and immediately enter the north end of the accessible campsite. You are encorage to pitch your tent in the accessible campsite and then proceed to the festival reception at the south end of the accessible campsite. Go directly to the 'Guest list' queue at the Festival Reception to get your wristbands, access passes and assistance.
PARKING
Blue Badge parking spaces do not need to be pre-booked. Upon arrival at 2000trees please show your Blue Badge to a member of the car parking team and they will direct you to the correct spot. Blue Badge parking is directly outside the main pedestrian entrance.
Distance to: Accessible campsite – 50-100m (dependent on parking space)
Check-in – 100-200m (dependent on parking space)
TOILETS
Accessible toilets are available at all major points around the site:
Access camping x 3 (Centre of site)
Main Arena viewing platform (Bottom of site)
The Axiom stage viewing platform (Centre of site)
The Cave stage viewing platform (Centre of site)
All arena toilet blocks
STROBE LIGHTING
Strobe lighting may be used at any time during the festival.
ASSISTANCE DOGS
Assistance dogs are welcome at 2000trees. Please let us know if you intend to bring an assistance dog using the Access requirement form or email us on access@2000trees.co.uk
MEDICATION REFRIGERATION
A refrigerator will be available for medications located with our First Aid provider in the centre of the site. All medicine must be clearly labelled including the owners full name & telephone number. Medication is left at the owners risk and must be collected before the site closes at midday on Sunday.
OUR STORY
2000trees was created in 2007 by music festival veterans after attending all the main industry events over a decade. Starting with a simple passion for music and the desire to create a dynamic, energetic and accessible event that put the fetival-goer at the top of their priorities.
learn more