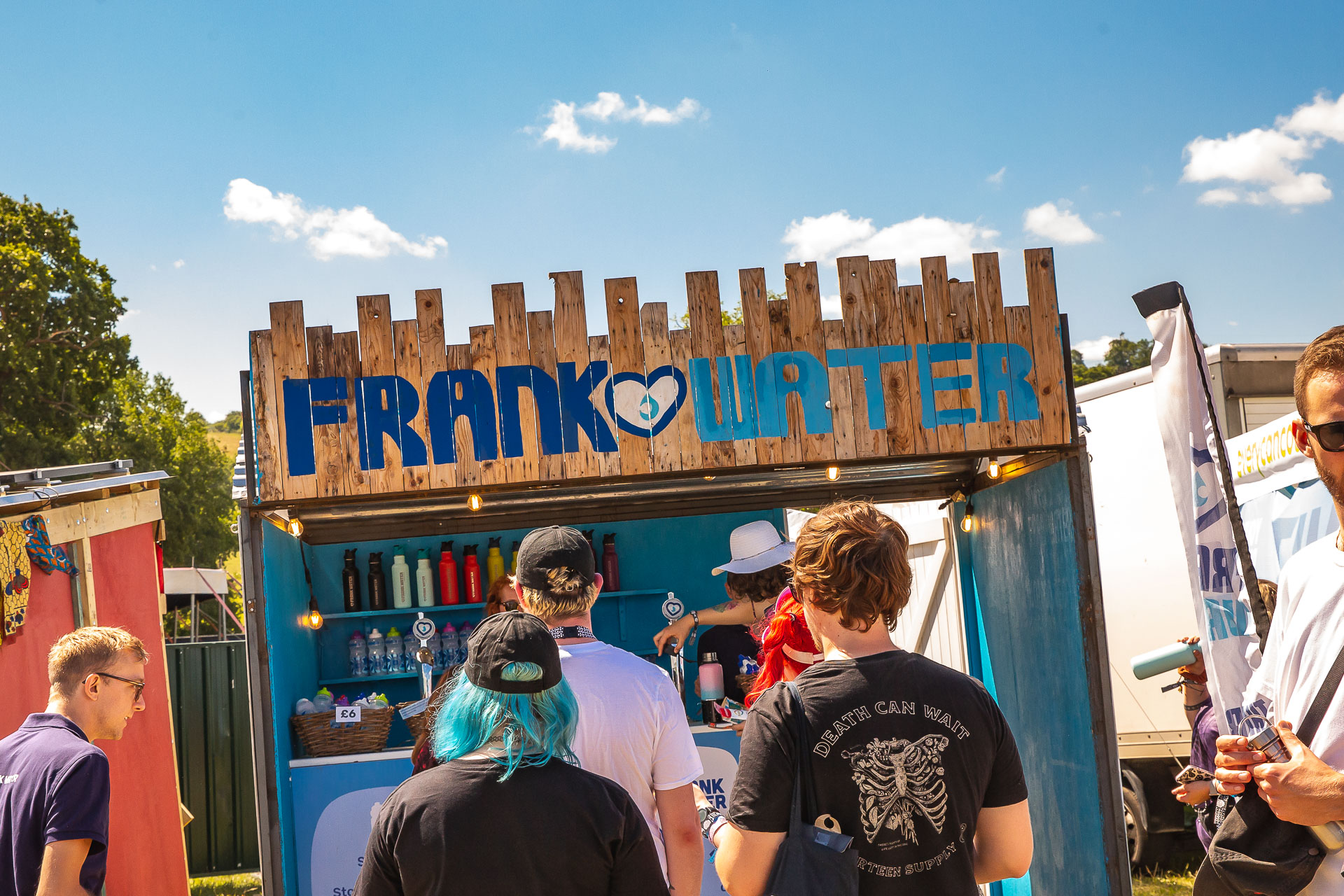 Partners & Charities
SUSTAINABILITY
TREE AID
We are stoked to be partnering with TREEAID – they work with people African drylands to tackle poverty and the effects of the climate crisis. Led by local people, Tree Aid has helped communities grow over 24 million trees so far.


FRANK WATER
Frank Water, the UK global water charity will be back at Trees 2023, offering unlimited cold, filtered water refills on site, dramatically cutting down plastic waste. Bring your own refill bottle, or you can buy one from Frank Water. Their mission is to alleviate global water poverty, focusing those most in need.
ECOLIBRIUM
When you buy your car parking pass, £3 will go to Ecolibrium, who channel that donation to their Energy Revolution programme to benefit projects that create clean renewable energy.
AIF
We're part of the Association of Independent Festivals and each year take part in their Take Your Tent Home and Drastic On Plastic campaigns to help cut down on waste post-fest.
CLEAN EARTH CO
We've recorded all of our production carbon footprint with Clean Earth Co, and used excess funds from our cup deposit scheme to offset seven years of production travel.
GREENPEACE
Greenpeace is a movement of people who are passionate about defending the natural world from destruction. Their vision is a greener, healthier and more peaceful planet, one that can sustain life for generations to come. You'll be able to meet them onsite at 2000trees 2023.
EXTINCTION REBELLION
Extinction Rebellion is an international movement that uses non-violent civil disobedience in an attempt to halt mass extinction and minimise the risk of social collapse.


MENTAL HEALTH & COMMUNITY DEVELOPMENT
HEADS ABOVE THE WAVES
HATW is a not-for-profit organisation that raises awareness of depression and self-harm in young people.
METAL FOR GOOD
Metal For Good uses the positive values of rock, metal and other alternative subcultures to make a positive difference in communities.


METALIDADS
METALIDADS is a support network and friendship group that provides a safe, informal, and caring space for fathers who love rock and heavy metal music. You'll be able to meet them at 2000trees 2023 - go say hi!
METAL FOR NEPAL
Metal For Nepal is a non-profit organization that brings together the global metal and art community to provide support for people living in poverty through various initiatives including food distribution, community support and ensuring children can access their right to education.
TEMWA
Temwa are back for 2023 to running the phone charging station - keeping you guys connected throughout the fun-filled weekend. All their profits go towards works in remote, rural areas of northern Malawi – where poverty and climate change are a daily reality.


INCLUSIVITY
ATTITUDE IS EVERYTHING
We've worked with Attitude is Everything since 2013, helping ensure disabled people participate in live music on an equal basis to everyone else.
SAFE GIGS FOR WOMEN
SGFW are an incredible charity who work with venues, promoters, artists and gig-goers to fight sexual assault and harassment at live music events.
THE MUSIC WORKS
The Music Works specialise in working with young people in challenging circumstances to help them reach their full potential.


BIMM INSTITUTE
BIMM Institute are inspiring the next generation of industry professionals and create opportunities for equal participation in the creative industries.
YOUNG GLOUCESTERSHIRE
Young Gloucestershire is a countywide charity that supports young people to have the confidence, motivation and skills to improve their lives.
TRAVEL


BIG GREEN COACH
We're a rural festival but by working with Big Green Coach we provide a shuttle bus service from Cheltenham train station, as well as a coach service from Bristol and London – saving even more car trips.
GREAT WESTERN RAILWAY
We are working with Great Western Railway to provide ways to save on public transport. Ditch the car and book your train journey today to help cut down on the vehicles on site. You can book your train here.
FEELING THIRSTY?


WESTONS CIDER
Westons Cider Mill will be getting us the best drinks to sip in the sun, and from just 35 miles away – cutting down your cider miles!
PURITY ALE
Purity ale are an independent producer just 40 miles away, providing ace beers and ales while keeping our carbon footprint as low as poss!
OUR STORY
2000trees was created in 2007 by music festival veterans after attending all the main industry events over a decade. Starting with a simple passion for music and the desire to create a dynamic, energetic and accessible event that put the fetival-goer at the top of their priorities.
learn more